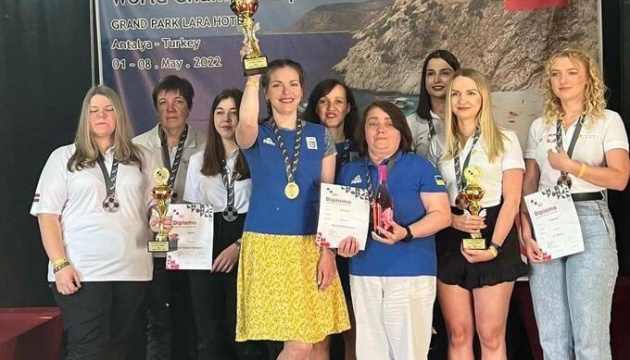 The world team championship in draughts-100 has ended in the Turkish city of Antalya.
According to Sport.uathe Ukrainian women's team won gold in the blitz game and silver in the classic game, Ukrinform reports.
Members of the Ukrainian national team: international grandmasters Victoria Motrichko (Odessa), Olga Baltazhi (Ivano-Frankivsk), Yulia Makarenkova (Kharkiv).
The Ukrainian men's team was not represented at the team World Cup 2022 due to Russian military aggression. Due to disqualification, the national teams of Russia and Belarus did not take part in the competition.
See also: Ukrainian basketball players won gold in the Deaflympiad, beating the United States in the final
Team World Cup 2022 in draughts-100
Classic game.
Men: 1. Netherlands, 2. Senegal, 3. France
Women: 1. Netherlands, 2. Ukraine, 3. Poland.
Quick game.
Men: 1. Netherlands, 2. Senegal, 3. Cameroon
Women: 1. Poland, 2. Netherlands, 3. Latvia, 4. Ukraine.
Lightning game.
Men: 1. Cameroon, 2. France, 3. Netherlands
Women: 1. Ukraine, 2. Latvia, 3. Poland.