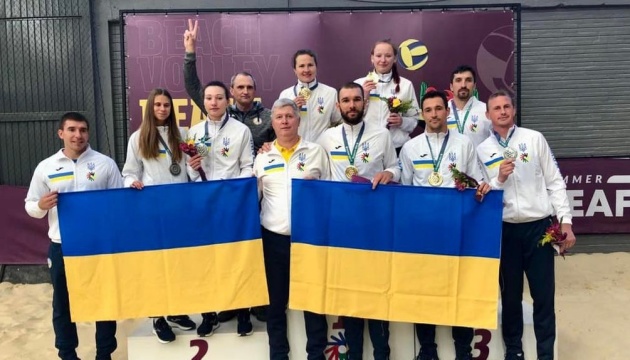 In the city of Caxias do Sul (Brazil), the XXIV Summer Deaflympic Games continue.
According to press office NKSIU, the national team of Ukraine on the 12th day of competition won 13 awards – 5 gold, 6 silver and 2 bronze, Ukrinform reports.
"Gold": beach volleyball – Alexander Poltoratsky – Nikolay Tsapkalenko, Yulia Yaroshevskaya – Raisa Rylova; basketball – the men's team of Ukraine; athletics – women's relay 4×400 meters (Victoria Kochmarik, Yulia Shapoval, Solomiya Kuprich, Kristina Kinyaikina), men's relay 4×400 meters (Sergey Drach, Alexander Dmitrienko, Dmitry Vyshinsky, Nikolai Nosenko).
"Silver": beach volleyball – Dmitry Renkas – Sergey Tarasov, Anna Zatylkina – Yulia Chernenko; volleyball – the men's team of Ukraine; athletics – Natalia Ursulenko (discus throw), Ekaterina Potapenko (triple jump), Dmitry Vyshinsky (200m run).
"Bronze": volleyball – women's team of Ukraine; athletics – Yulia Matvievskaya (triple jump).
In the medal standings of the Deaflympiad, Ukraine is the absolute leader with 129 awards – 56 gold, 37 silver, 36 bronze.
The XXIV Summer Deaflympics will last until May 15.
See also: Ukrainian basketball players won gold in the Deaflympiad, beating the United States in the final
Deaflympiad – sports competitions among people with hearing impairment. At the last Games in 2017, Ukraine took second place in the team medal standings, winning 99 awards, of which 21 were gold.
Photo: paralympic.org.ua.