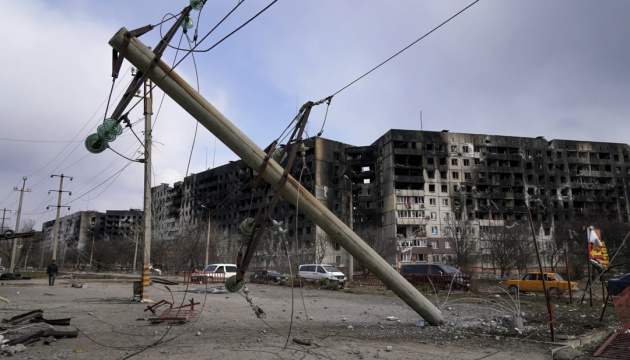 To create fakes, Russia is trying to attract foreign media.
According to Ukrinform, this was reported by the Main Intelligence Directorate of the Ministry of Defense. in Facebook.
"Realizing that the world community no longer believes the false reports of Russian TV channels, the Kremlin propagandists decided to involve European journalists and the world media in their activities. According to the military intelligence of Ukraine, the department of information and mass communications of the Ministry of Defense of the occupying country is urgently preparing a press tour of foreign journalists to the temporarily occupied territories of Ukraine," the message says.
So, from May 18 to May 21, the invaders plan to show the destroyed areas of Mariupol to the media representatives. In particular, in order to accuse Ukraine of destroying the city and mass killings of civilians, Russian propagandists have already brought fragments of Ukrainian ammunition collected from all the occupied regions of the Donetsk region to Mariupol and are preparing "local eyewitnesses" brought from Donetsk and Gorlovka who will tell journalists " about the crimes" of the defenders of Mariupol.
The so-called press tour also includes the departure of the group from Rostov-on-Don and visits by journalists to Kherson, Novaya Kakhovka, Skadovsk, Armyansk and Donetsk, where they are scheduled to meet with the Kremlin puppet D. Pushilin. The Russian Ministry of Defense is trying to attract media representatives from France, the United States, Germany, Japan, Greece, China, Belarus, India, Venezuela, Bulgaria and the UAE to participate in the "press tour".
"We warn foreign journalists about the plans of the propagandists of the aggressor country to make them accomplices in the creation of fake materials and remind them of the criminal liability for illegally crossing the state border of Ukraine and entering the territory of an independent state," the Main Intelligence Directorate of the Ministry of Defense added.
See also: the Kremlin revealingly punishes the commanders of Russian troops for defeats in Ukraine – intelligence
As reported, on Monday, May 16, the evacuation of Ukrainian defenders from the Azovstal plant began. More than 50 seriously wounded servicemen were taken to a medical facility in Novoazovsk, another 211 defenders were evacuated through the humanitarian corridor to Olenevka with their subsequent return to the territory controlled by Ukraine through the exchange procedure. The operation continues.
Photo: Stringer, Anadolu Agency