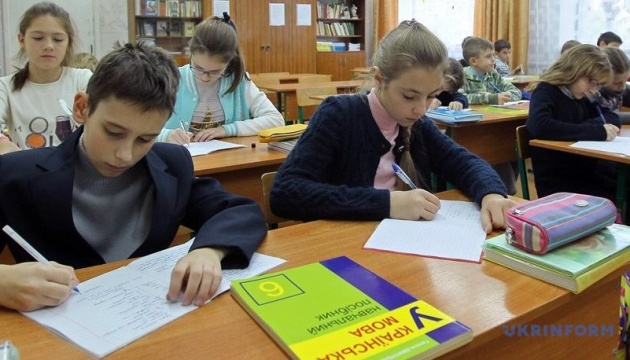 The Ministry for the Reintegration of the Temporarily Occupied Territories notes that the introduction of educational standards of the aggressor state in accordance with the Criminal Code of Ukraine is a collaboration activity.
This is stated in statement departments regarding the forced transition of Kherson educational institutions to the education standards of the aggressor state, Ukrinform reports.
"The Ministry of Reintegration emphasizes that the implementation of educational standards of the aggressor state in accordance with part three of Article 111-1 of the Criminal Code of Ukraine is a collaboration activity. We warn the occupying authorities of Kherson and personally the pseudo-chairman of the Kherson regional administration: if you commit such actions, you will be brought to criminal responsibility – noted in the department.
According to the Ministry of Reintegration, there are signals that the head of the Kherson regional administration, appointed by the invaders, Vladimir Saldo, intends to gather directors of schools and kindergartens in Kherson in order to force the transition of educational institutions to the Russian program.
In this regard, the ministry reminds: if it is impossible to work according to Ukrainian standards, the heads of educational institutions should suspend the educational process, while the average salary is kept for the employees.
At the same time, the Ministry of Reintegration emphasized that if a person is forced to continue working "at gunpoint", he will not be held criminally liable. But the facts of coercion must be recorded and, if possible, reported to the SBU and the prosecutor's office.
According to the Kherson publication "Most", the directors of Kherson schools were given an invitation from the occupying "military-civilian administration of the Kherson region" to a meeting held on May 26 at 10 a.m. to discuss "issues of organizing and planning the new academic year 2022/23".
It is not yet known how many school principals took part in the "meeting". The publication assumes that it was spoken about the transition of Kherson schools to Russian curricula.
In social networks, Kherson residents note that Tatyana Kuzmich, a former teacher at the Kherson Academy of Continuing Education, who was exposed in cooperation with the Russian special services and in 2021 was suspected of treason, distributed the invitation to school principals, accompanied by armed guards. Kuzmich was released from custody on bail of 500 thousand hryvnia.
As Ukrinform reported, in the Kherson region, the invaders are blocking the "green corridors", evacuation, kidnapping civilians, including journalists, community leaders, deputies, activists, ATO participants, farmers, teachers. In the temporarily occupied territory of the region, resources are running out, business has stopped.