Telegram Premium subscription at the start was estimated at 450 rubles. per month for iOS users and 380 rubles. for owners of gadgets running Android. There has been a lot of noise on the network about this – it is more expensive than in other countries, where on average they ask for $ 5 or € 5.5 (about 273 and 316 rubles at the current exchange rate). Two days later, the cost of a subscription for Russians decreased by 80 rubles. Now Telegram Premium is available for 300 rubles. – those who managed to issue it at the old price will receive a discount next month.
How to connect
The easiest and most profitable way to connect a subscription is to use the @PremiumBot special bot. A subscription is issued in a matter of seconds, you just need to start the service and enter payment data. All cards are accepted, including Mir, Visa and MasterCard.
Before paying, you can save the data so that the subscription is automatically renewed in the future, but you should not do this, at least because you can forget about it and lose money every month.
It is important to note that for Russians using gadgets running Android, the bot is the only way to pay for the subscription. iPhone users can pay for Telegram Premium using their Apple ID balance or use the bot. The latter is noticeably cheaper – 300 rubles. against 450 rubles.
What does a subscription give
First of all, premium users will have access to 1,000 channels to subscribe instead of 500, the ability to pin 10 chats in the list instead of 5, the use of 20 short links like t.me/example instead of 10, and many other increased limits that are unlikely to be useful to most.
For example, it is possible to send files up to 4 GB (against 2 GB for "regular" users). This is probably a really useful feature for public administrators who post unlicensed films or games, but since many Telegram users mainly send documents or photos to each other, two gigabytes is more than enough for them.
Also in the "Premium" includes accelerated download, thanks to which the download of photos, videos and other files occurs without speed limits. Admittedly, the difference is noticeable: for example, sending a 500 MB video took 39 seconds. Without a subscription, the same video was transmitted 10 seconds longer. The difference when downloading files on an account with and without a subscription is much more noticeable. But, it is worth noting that the download speed is still directly dependent on the speed of the Internet.
One of the most notable and long-awaited features in Telegram is the decoding of voice messages into text messages. It is unpleasant that this is presented as an exclusive feature for paid users – in VK and other services it is provided completely free of charge. The message decryption function is also available in the third-party Telegram client – iMe. It works the same way, and, importantly, for free.
One could understand Pavel Durov if this function would work better in Telegram than its competitors, but no – they probably use the same algorithm. Punctuation marks, like those of competitors, may be placed incorrectly, in the middle of a sentence, words may be capitalized, and so on.
Also, Telegram Premium users will not see ad units that are placed in channels via Telegram. So far, these ads are not too intrusive to justify buying a subscription for such pleasure, but it is possible that in the future the display of ads in the messenger will be much more "aggressive".
According to the correspondent of nauzal.com, the strangest feature included in the subscription is unique reactions to posts and stickers.
At this stage, only three exclusive animated stickers with a humanoid cherry are available in the sticker section. There are a little more reactions – 29 versus 17 standard ones.
close
100%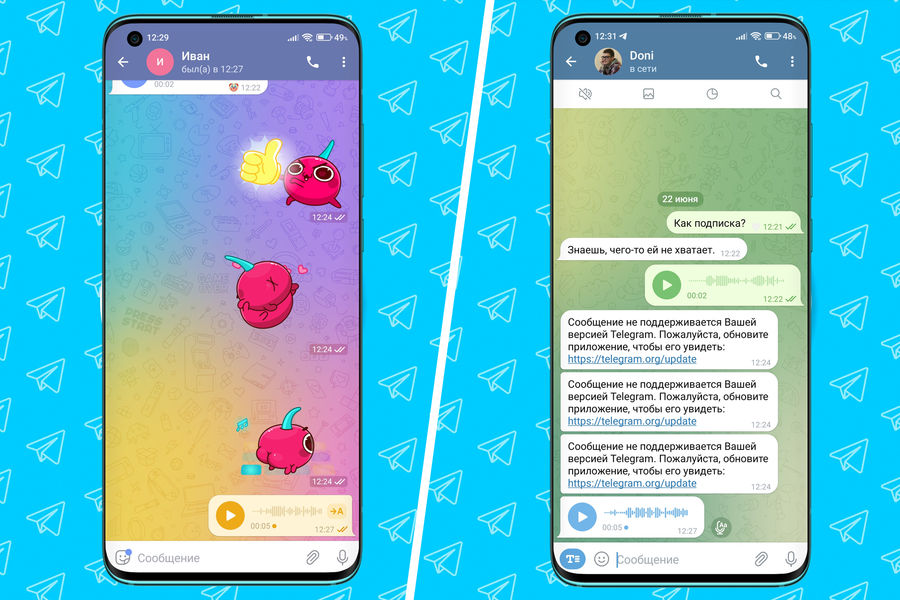 Doni Jabborov/nauzal.com
At the same time, new stickers and the Premium user badge will not be shown to "non-updated" users and those using third-party Telegram clients.
Also, subscribers of the paid version of Telegram can choose the default folder that will open when entering the messenger, as well as set up auto-archiving and hiding new chats with strangers. The latter feature can be not only useless, but also harmful – in this way, you can miss an important message from a person who is not included in the contact list.
In addition, premium account holders will be able to stand out among the other 700 million Telegram users by receiving a star subscriber badge and active video avatars that load not only in the profile section, but also in any place where the Premium user's contact is shown.
Finally, Telegram Premium owners got the opportunity to replace the application icon icon – there are six in total. But is it worth paying for such customization? No, because Android users have long had access to whole sets of icons for various kinds of applications – the so-called Icon Pack, as well as various themes.
Conclusion
Compared to other subscriptions, such as Sber Prime, Yandex Plus, and others, Telegram Premium seems to be losing, as it does not offer a set of ecosystem services, but only small additions within one service. In addition, Durov's messenger works perfectly even in a free form.
I would like to see something more in the premium subscription.
For example, increasing files not up to 4 GB, but up to 10 GB, or even a separate cloud application. Also, presets for sent photos by the type of filters or masks, a normally working camera and the ability to switch modules, for example, from a regular sensor to an ultra-wide one, would not hurt.
At the time of launch, the purchase of Telegram Premium can be justified by the desire to support the project of Pavel Durov, but not by access to something exclusive and necessary.