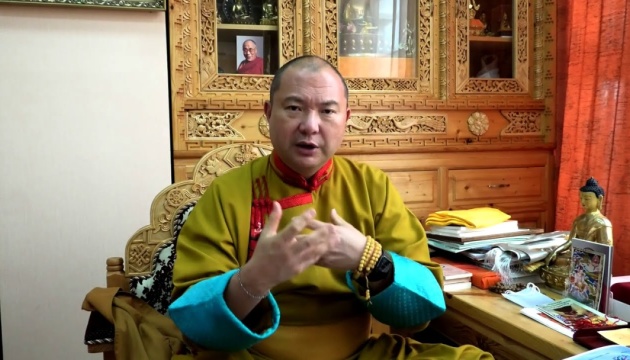 In Russia, the Supreme Lama of Kalmykia Telo Tulku Rinpoche (Erdni Ombadykov) said that the truth in the war unleashed by Russia is on the side of Ukraine, which is defending its land.
He said this in an interview YouTube channel "Alchemy of the soul", reports Ukrinform.
"I think this is wrong, this war is not needed… The Ukrainian side, of course, is right – it is defending its country, its land, its truth, its Constitution, its people. It is very difficult to say and accept that Russia is right… I can't do that," said the Supreme Lama of Kalmykia.
Telo Tulku Rinpoche emphasized that up to this point he had not commented on the war in Ukraine, because "he did not want to spoil relations between the government and our Buddhists." He also believes that the leaders of the Buddhist communities in Russia who support military aggression are unlikely to think so if they are real Buddhists.
The Supreme Lama is now in Mongolia, where he meets with Kalmyk residents who emigrated from Russia after the outbreak of the war, and also helps them arrange accommodation.
Read also: Religion cannot be used to justify war – Pope Francis
In mid-June, Telo Tulku Rinpoche, in an address on the occasion of the Buddha's birthday, already made an anti-war statement, but without any specific reference to the Ukrainian events.
According to media reports, the statement of the supreme lama of Kalmykia is the first public speech of such a level by a leader of a traditional confession for Russia, who condemned military aggression.
Earlier, representatives of all traditional confessions in the Russian Federation – Orthodoxy, Islam, Judaism and Buddhism – supported the military aggression in Ukraine and called for prayerful support for those who are fighting against the Armed Forces of Ukraine.